Tanakan: instructions for using the medicine, structure, Contraindications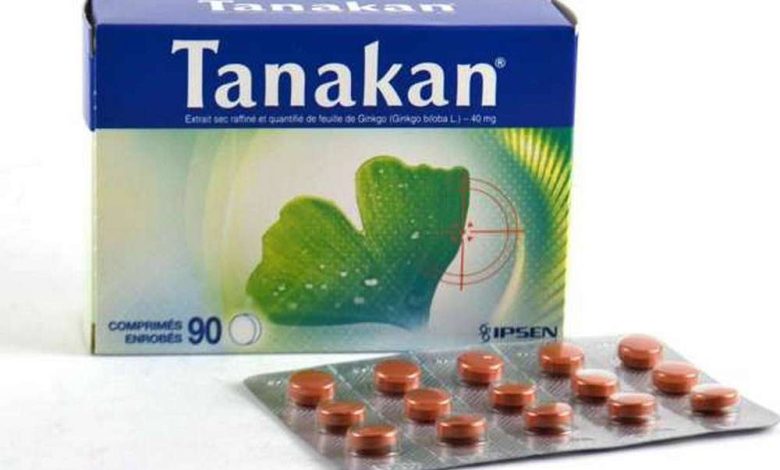 Active material: Ginkgo Biloba
When ATH: N06DX02
CCF: Phyto, improves cerebral and peripheral circulation
ICD-10 codes (testimony): F07, H35.0, H35.3, H81, H93.0, I67.2, I69, I73.0, I73.1, I73.9, I79.2, R42
When CSF: 01.14.08
Manufacturer: BEAUFOUR IPSEN INTERNATIONAL (France)
Tanakan: dosage form, composition and packaging
Pills, coated brick red, round, lenticular; at the turn light brown, and odor.
| | |
| --- | --- |
| | 1 tab. |
| dry standardized extract of Ginkgo biloba (EGb 761) | 40 mg, |
| incl. geterozidы | 24% |
| ginkgolidы-bilobalidы | 6% |
Excipients: lactose monohydrate, microcrystalline cellulose, corn starch, colloidal silicon dioxide, talc, magnesium stearate.
The composition of the shell: gipromelloza, macrogol 400, macrogol 6000, Titanium dioxide, red iron dioxide.
15 PC. – blisters (2) – packs cardboard.
15 PC. – blisters (6) – packs cardboard.
Oral solution brownish orange, with a characteristic odor.
| | |
| --- | --- |
| | 1 ml |
| dry standardized extract of Ginkgo biloba (EGb 761) | 40 mg, |
| incl. geterozidov | 24% |
| ginkgolidov-bilobalidov | 6% |
Excipients: sodium saccharin, soluble orange essence, soluble lemon essences, ethanol 95%, Purified water.
30 ml – vials of dark glass (1) complete with dosing pipette – packs cardboard.
Tanakan: pharmachologic effect
The standardized and titrated herbal preparation, action is due to the influence of metabolic processes in cells, rheological properties of blood and microcirculation, and vasomotor responses to blood vessels. It improves blood circulation of the brain, improves the delivery of oxygen and glucose, normalizes the tone of arteries and veins, improves microcirculation. It helps to improve blood flow, prevents platelet aggregation, It has an inhibitory effect on platelet activating factor.
Improves metabolic processes, antihypoxia has effects on tissue. It prevents the formation of free radicals and lipid peroxidation of cell membranes. Affects release, reuptake and catabolism of neurotransmitters (noradrenaline, Acetylcholine) and for their ability to bind to membrane receptors.
Tanakan: pharmacokinetics
Pharmacokinetic studies of the drug Tanakan® not carried out.
Tanakan: testimony
cognitive and neurosensory deficits of various origins (except for Alzheimer's disease and dementia of various etiologies);
intermittent claudication in chronic obliterating arteriopathy of the lower extremities (II degree in Fontaine);
vascular visual impairment, reducing its severity;
hearing loss, tinnitus, dizziness and ataxia predominantly vascular genesis;
Raynaud's disease and syndrome.
Tanakan: dosing regimen
Assign 40 mg (1 tab. or 1 ml oral solution) 3 times / day with meals.
Is the inside. The tablet should be taken with half a glass of water, oral solution – dissolved in half a glass of water. Before the drug in the form of oral solution should use the attached dropper dispenser (1 dose = 1 ml).
Tanakan: side effects
CNS: headache, dizziness, insomnia.
From the digestive system: dyspepsia.
Allergic reactions: skin rash.
Tanakan: Contraindications
pregnancy;
lactation (breast-feeding);
hypersensitivity to any of the components of the drug.
Tanakan: Pregnancy and lactation
Application tanakan® contraindicated during pregnancy and lactation due to the lack of clinical data.
Tanakan: Special instructions
Since Tanakan® in the form of tablets containing lactose, it should not be used in patients with congenital galactosemia, malabsorption syndrome glucose or galactose, or with lactase deficiency.
Tanakan: overdose
Currently, cases of drug overdose Tanakan® Unknown.
Tanakan: drug interaction
In an application tanakan® in the form of oral solution to the cephalosporin group of antibiotics (цefamandol, cefoperazone, latamoxef), chloramphenicol, disulьfiramom, oral hypoglycemic drugs (hlorpropamyd, glibenclamide, glipizide, butamyd), antifungals (ketoconazole, griseofulvin), 5-nitroimidazole derivatives (metronidazol, ornidazol, Seknidazol, tinidazol), cytostatics (procarbazine), tranquilizers may cause hyperthermia, redness of the skin, heart palpitations, since 1 dose Tanaka® in the form of oral solution contains 450 mg 57% ethyl alcohol.
Tanakan: terms of dispensing from pharmacies
The drug is released under the prescription.
Tanakan: terms and conditions of storage
The drug should be stored out of reach of children at or above 25 ° C. Shelf life Tablets – 4 year. Shelf-life of oral solution – 3 year.