Nervous: instructions for using the medicine, structure, Contraindications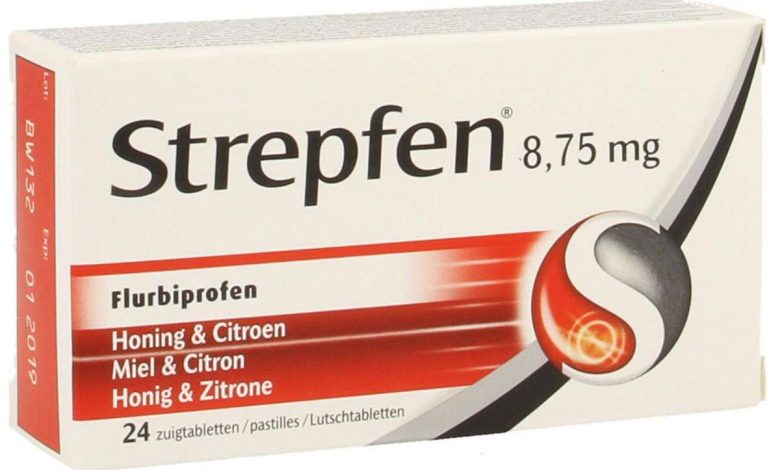 Active material: Flurbyprofen
When ATH: M01AE09
CCF: NSAIDs
ICD-10 codes (testimony): J00, J02, J03, K05, K12, R07
When CSF: 05.01.03.02
Manufacturer: RECKITT BENCKISER HEALTHCARE INTERNATIONAL Ltd. (Great Britain)
Nervous: dosage form, composition and packaging
◊ Lozenges (Medovo--limonnыe) round, of translucent caramel mass, from light yellow to light brown color, with the image of the letters "S" on both sides Tablets; It allowed the presence of air bubbles in the mass of caramel and slight rough edges; may appear white bloom.
| | |
| --- | --- |
| | 1 tab. |
| flurbyprofen | 8.75 mg |
Excipients: macrogol 300, Sodium hydroxide, lemon flavor 502904A, levomenthol, honey, liquid sucrose, dextrose.
8 PC. – blisters (1) – packs cardboard.
8 PC. – blisters (2) – packs cardboard.
8 PC. – blisters (3) – packs cardboard.
Nervous: pharmachologic effect
NSAIDs. The mechanism of action of flurbiprofen is associated with inhibition of the enzyme COX-1 and COX-2, followed by prostaglandin synthesis inhibition - mediators of pain. Anti-inflammatory and analgesic effect.
The therapeutic effect of the drug develops within 30 min after the start of resorption tablet in the oral cavity and extends for 2-3 no.
Nervous: pharmacokinetics
Absorption and distribution
Rapidly absorbed from the gastrointestinal tract. Cmax plasma levels achieved after 30-40 m.
Plasma protein binding – more 99%.
Metabolism and excretion
Biotransformed in the liver by hydroxylation.
Excreted in the urine. T1/2 is 3-6 no.
Nervous: testimony
infectious and inflammatory diseases of the oral cavity and pharynx (as agents for the symptomatic relief of pain).
Nervous: dosing regimen
Adults and children over 12 years It is recommended to take 1 tab. as needed.
Do not use more than 5 tab. during 24 no.
Do not take the drug more 3 days.
Tablets dispersible oral until complete dissolution. When resorption should move across the tablet oral, in order to avoid damage to the mucosa at the site of absorption.
Nervous: side effects
Local reactions: distortion of taste, paresthesia (burning, pricking, tingle), ulceration of the mucous membranes of the mouth.
Before the drug orally at a dose 50-100 mg 2-3 times / day (12-30 tab. / day) can be observed:
From the digestive system: dyspepsia (nausea, vomiting, heartburn, diarrhea), gastropathy, abdominal pain, abnormal liver function; long-term use at high doses - ulceration of the gastrointestinal mucosa, bleeding (incl. gums and hemorrhoids).
Cardio-vascular system: increased blood pressure, tachycardia, heart failure.
From the hematopoietic system: rarely - anemia (iron, hemolytic, aplastic), agranulocytosis, leukopenia, thrombocytopenia.
From the central and peripheral nervous system: headache, dizziness, drowsiness or insomnia, asthenia, depression, amnesia, tremor, excitation; are rarely - ataxia, paresthesia, disturbance of consciousness.
From the urinary system: tubulointerstitial nephritis, edematous syndrome, impairment of renal function.
Allergic reactions: skin rash, itch, hives, bronchospasm, photosensitivity, angioedema, anaphylactic shock.
Other: hearing loss, noise in ears, increased sweating.
Nervous: Contraindications
stomach ulcer (exacerbation);
bronchial asthma and rhinitis while taking acetylsalicylic acid or other NSAIDs;
deficiency of glucose-6-fosfatdegidrogenazы;
Children up to age 12 years;
pregnancy;
lactation (breast-feeding);
hypersensitivity to the drug.
FROM caution use in patients with hyperbilirubinemia (incl. Gilbert's syndrome, Dubin-Johnson and Rotor), chronic heart failure, edema, hypertension, gemofilii, reducing blood clotting, gastric ulcer or duodenal ulcer (in remission, history), kidney and / or liver failure, suppression of bone marrow hematopoiesis, hearing loss, pathology of the vestibular apparatus, as well as in elderly patients.
Nervous: Pregnancy and lactation
Application Strepfen® contraindicated during pregnancy. If necessary, the appointment during lactation should decide the issue of termination of breastfeeding.
Nervous: Special instructions
In the case of a combination of pain in the throat with a significant increase in body temperature the drug can be recommended by a doctor.
If you want to determine the 17-ketosteroids drug should be discontinued for 48 h before the test.
Diabetics should take into account, the tablet contains about 2.5 g sugar.
Patients should be warned, that if the high temperature, occurrence of headaches or other adverse events should consult a doctor.
Nervous: overdose
Symptoms: when receiving 1 g - sleepiness; more 1.5 g - excitement; 2.5-4 g - nausea, headache, dizziness, epigastric pain, diplopia, mioz, gipotonus; more 4 g - depression of consciousness up to coma.
Treatment: the drug should be discontinued; if necessary, symptomatic therapy.
Nervous: drug interaction
In a joint application with the drug Strepfen® Inductors of microsomal oxidation in the liver (phenytoin, ethanol, barbiturates, rifampicin, phenylbutazone, tricyclic antidepressants) increase the production of hydroxylated active metabolites of flurbiprofen.
In an application Strepfen® reduces the effectiveness of drugs urikozuricheskih; enhances the effect of anticoagulants (the risk of bleeding), antiagregantov, fibrinolitikov, side effects of mineralogy- and glucocorticoids, estrogen.
In an application Strepfen® reduces the efficacy of antihypertensive and diuretic.
In an application Strepfen® enhances hypoglycemic effect of sulfonylurea derivatives.
In an application Strepfen® It increases the blood concentration of drugs lithium, methotrexate.
Nervous: terms of dispensing from pharmacies
The drug is approved for use as a means of tempering beretsepturnogo.
Nervous: terms and conditions of storage
The drug should be stored in a dry, protected from moisture, inaccessible to children at temperature to 25 ° C. Shelf life - 3 year.