Isophra: instructions for using the medicine, structure, Contraindications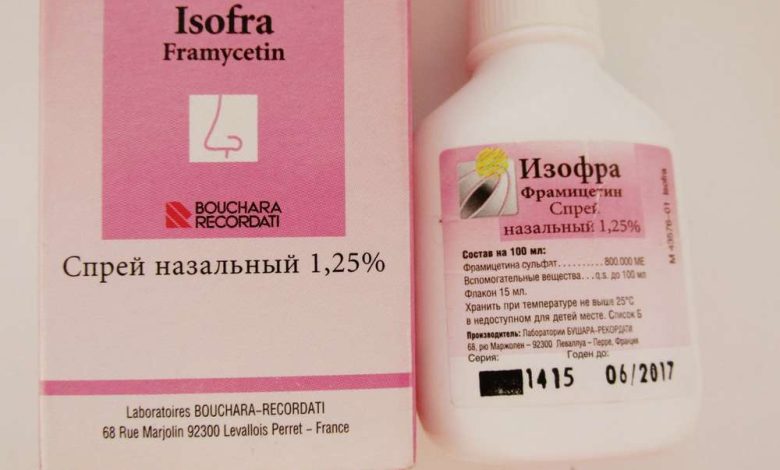 Active material: Framycetin
When ATH: R01AX08
CCF: Antibacterial drug for local use in ENT practice
ICD-10 codes (testimony): J00, J01, J31, J32, Z29.2, Z29.8
When CSF: 06.05.04
Manufacturer: Laboratoires Bouchara-RECORDATI (France)
Isophra: dosage form, composition and packaging
| | |
| --- | --- |
| Spray nazalynыy 1.25% | 1 ml |
| framycetin sulfate | 12.5 mg (8 th. ME) |
Excipients: metilparagidroksiʙenzoat, sodium chloride, lemon acid, water distillirovannaya.
15 ml – plastic bottles (1) Included spray – packs cardboard.
Isophra: pharmachologic effect
Aminoglycoside antibiotic for topical use in otorhinolaryngology. Effective bactericidal. It is active against Gram-positive and Gram-negative bacteria, causing the development of infectious processes in the upper respiratory tract.
Isophra: pharmacokinetics
Research pharmacokinetics Izofra not conducted in connection with low systemic absorption.
Isophra: testimony
In the combined therapy in infectious and inflammatory diseases of the upper respiratory tract, including:
rhinitis;
rinofaringitы;
sinusitis (in the absence of damage to walls);
Prevention and treatment of inflammatory processes after surgery.
Isophra: dosing regimen
Adults appoint 1 injection into each nostril 4-6 time / day.
Babies appoint 1 injection into each nostril 3 times / day.
The average duration of therapy – 7 days.
By drinking a bottle should be kept in the upright position.
Isophra: side effects
Allergic reactions: in a few cases – cutaneous manifestations.
Isophra: Contraindications
hypersensitivity to framycetin and other antibiotics from the aminoglycoside group.
Isophra: Pregnancy and lactation
Adequate and well-controlled clinical studies safety of the drug Izofra during pregnancy and lactation (breast-feeding) not performed.
Isophra: Special instructions
If during the 7 days of treatment with a therapeutic effect is weak or absent, the drug should be abolished.
Isophra: overdose
Due to the low degree of absorption into the systemic circulation overdose is unlikely.
Isophra: drug interaction
No clinically significant drug interactions Izofra with other drugs have been identified.
Isophra: terms of dispensing from pharmacies
The drug is released under the prescription.
Isophra: terms and conditions of storage
The drug should be stored at temperatures above 25 ° C. Shelf life – 3 year.