Description electromyography
Rheotachygraphy (DOH) measures and records the electrical activity of muscles. The test allows you to record the electrical activity of the muscles at rest or with their reduction.
DOH chasto carried out for the study of nerve conduction. According to the survey, you can analyze the electrical activity of nerves.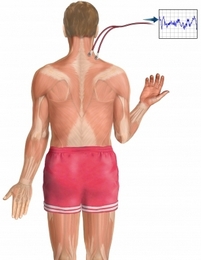 Reason for electromyography
EMG is most often done to:
To help in diagnosing the source of pain, cramps or weakness in the muscles and nerves;
Determining the cause of muscle weakness and limitations, pain associated with;
Determine, Do the muscles properly;
Distinguish between muscle and nerve disorders.
How is electromyography?
Preparation for the procedure
Consult your doctor about the drugs taken. A week before the study you may be asked to stop taking some medicines:
Anti-inflammatory drugs (eg, aspirin);
Blood thinners, such as clopidogrel, warfarin, or ticlopidine.
Per day or the day of the test:
If you have myasthenia gravis, Ask the doctor, whether to take medication before the test;
Avoid cigarettes, coffee, teas and carbonated beverages for 2-3 hours before the EMG;
Take a bath or shower before the test;
Before the test, do not use lotion or body oil;
Wear comfortable clothing, but be ready to change into a hospital gown;
Tell your doctor, if you have a pacemaker or other implanted devices.
Procedure Electromyography
Small needle electrode is inserted into a muscle at rest. You will be asked to relax and reduce muscle. Electrical activity of muscles of the needle is trapped and converted into a signal. The signal will be recorded and analyzed. Testing is repeated for different groups of muscles and limbs.
After electromyography
You will be able to do daily activities. When the doctor allowed, You can resume taking medication.
How long will electromyography?
30-90 minutes.
Rheotachygraphy – Will it hurt?
The pain may be felt during the insertion of the needle. Introduction similar to injection into the muscle.
After the treatment for a few days may be felt muscle pain and discomfort. Warm compresses and pain medicine may help to reduce the unpleasant symptoms.
The results of electromyography
Doctor, vypolnyayushii DOH, perhaps, will discuss the results with you. Test results will be sent to your doctor. Based on the result electromyography and other factors will be given treatment.
Contact your doctor after electromyography
After returning home, you need to see a doctor, If the following symptoms:
Signs of infection, including fever and chills;
Redness, edema, increased pain, bleeding, or swelling around the site of insertion of the needle.