Description pneumonia
Pneumonia – lung infection. It affects the lower respiratory tract, which include the Bronchioles and alveoli (the air sacs in the lungs).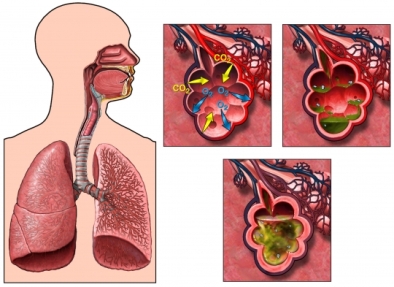 Causes of Pneumonia
There are three the main reasons for:
Bacterial pneumonia, caused by bacteria – most often streptococcal pneumonia;
Virus pneumonia, caused by viruses;
Atypical bacterial pneumonia, that can lead to serious and potentially fatal inflammation of the lungs.
Other causes of pneumonia include:
Fungal infections – mainly in people, AIDS patients.
Pneumonia is sometimes described by place, where you purchased it:
Community-acquired pneumonia – occurs in a group (eg, at school, at work, gym);
Hospital-acquired pneumonia – occurs during hospitalization in hospital;

Can be very dangerous, especially for patients with lung diseases;

Aspiration pneumonia – there, When foreign substances (often the contents of the stomach) into the lungs.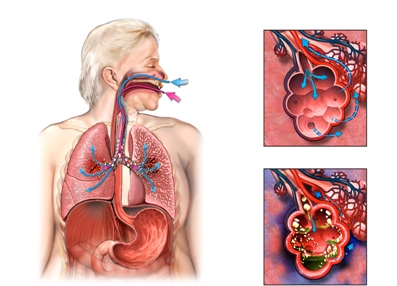 Risk factors
Factors, that increase the likelihood of contracting pneumonia include:
Age: 65 and older;
Flu or other respiratory illness;
Chronic diseases, such as heart disease or lung;
Stroke (aspiration pneumonia can occur due to problems with swallowing);
Weakened immune system due to AIDS or chemotherapy;
Chronic bronchitis;
Malnutrition;
Pregnancy;
pneumonia often occurs in infants and young children;
Substance abuse;
Smoking;
Prolonged exposure to certain chemicals (eg, work in construction or agriculture).
Symptoms of pneumonia
Symptoms may vary depending on the type of pneumonia.
| | | |
| --- | --- | --- |
| Bacterial pneumonia | Virus pneumonia | SARS |
| Fever | Fever | Fever, often mild |
| Chills | Chills | Chills |
| Coughing green, yellow, or reddish mucus | Dry cough | Cough; may be made from time to time strong; produces white mucus |
| Pain in the chest | Headache | There may be nausea or vomiting |
| Profuse sweating | Muscle weakness | Weakness |
| Bluish lips and nails due to the decrease of oxygen in the blood | Bluish lips and nails due to the decrease of oxygen in the blood | |
| Confusion | Weakness | |
Diagnosis of pneumonia
The doctor asks about the symptoms and medical history, and performs a physical exam. Diagnosis is based on symptoms and chest listening stethoscope. Tests may include the following:
Chest X-ray – to take pictures of structures inside the body, in this case the chest;
CT scan – type of X-ray inspection, to make pictures of structures inside the chest;
Blood tests;
Bronchoscopy – examination of the upper respiratory tract;
Testing of phlegm and mucus, released when coughing;
Pulse oximetry – measuring the amount of oxygen in the blood;
Analysis of gases, dissolved in arterial blood – oxygen, carbon dioxide and nitrogen.
Treatment of pneumonia
Treatment of pneumonia depends on the:
Type of pneumonia;
The severity of symptoms;
Other factors.
Treatment approaches include:
For bacterial pneumonia – antibiotics;
For viral pneumonia – It may be prescribed antiviral drugs for small children and people with weakened immune systems;

Attention: Antibiotics are ineffective for treating viral pneumonia.

SARS – antibiotics.
It is very important to take medications, prescribed by a doctor. Early discontinuation of treatment may lead to relapse.
General rules for treatment of pneumonia include:
Recreation and drinking large amounts of fluids;
Healthy eating (consuming large amounts of fruit and vegetables). It is recommended to take vitamin c – to 1000 mg per day;
Medications to reduce fever, pain and cough;
Hospitalization (in severe cases).
Prevention of pneumonia
Some vaccines can prevent pneumonia:
Vaccination against influenza to persons at high risk of respiratory infections, especially in the elderly (Pneumonia may be a complication of the flu);
Pneumococcal vaccine – Common recommendations include:

Pneumococcal conjugate vaccine (PKV) – for children;
Pneumococcal polysaccharide vaccine (PPSV) – for adults aged 65 and older and for young people, that belong to the high risk of infection.
Other preventive measures include:
Avoid smoking. Smoke weakens the resistance to lung infections;
Avoiding close contact with people, who are sick with cold or flu;
You need to wash your hands after contact with infected people;
The use of protective equipment (mask, respirator, gas mask) at work, that can cause pneumonia;
Intake of healthy foods. Particular attention should be paid to enter the body of sufficient vitamin c and zinc;
It is necessary to fully relax;
Need to do regular physical exercise.