Otipax: instructions for using the medicine, structure, Contraindications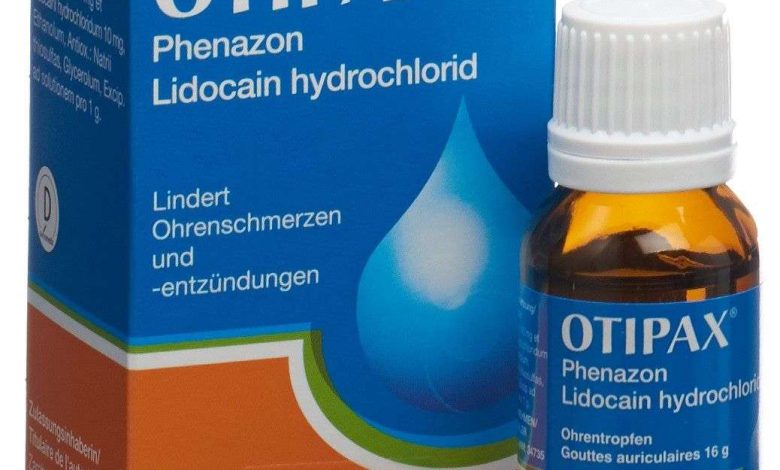 Active material: Lidokain, Fenazon
When ATH: S02DA30
CCF: Preparation with anti-inflammatory and mestnoanestezirutm effect for local application in ENT practice
ICD-10 codes (testimony): H66
When CSF: 05.01.03.02
Manufacturer: BIOCODEX (France)
Otipax: dosage form, composition and packaging
◊ Ear Drops clear, colorless or yellowish, with the smell of alcohol.
| | |
| --- | --- |
| | 1 g |
| fenazon | 40 mg |
| Lidocaine hydrochloride | 10 mg |
Excipients: sodium thiosulfate, ethanol, glycerol, water.
16 g – vials of dark glass (1) complete with capelnica (in blister) – cardboard boxes.
Otipax: pharmachologic effect
Combination preparation for topical application. Provides mestnoanestezirutee and anti-inflammatory effect.
Fenazon – analgesic-antipyretic and analgesic with anti-inflammatory activity. Lidokain – mestnый anesthetic. The combination of Phenazone and lidocaine promotes more rapid onset of anaesthesia, as well as increases its intensity and duration.
Otipax: pharmacokinetics
Not enters the body when intact eardrum.
Otipax: testimony
Local symptomatic treatment and pain relief in adults and children (including newborns) at:
otitis media in the acute period at the time of inflammation;
otite, as complications after flu;
barotraumatic otitis media.
Otipax: dosing regimen
Drops of fluid in the ear canal for 3-4 drops 2-3 times / day. Avoid contact of cold solution with auricle bottle before use, warm in your hands.
The course of treatment is not more than 10 days.
Otipax: side effects
Maybe: allergic reactions, irritation and hyperemia meatus.
Otipax: Contraindications
perforated eardrum;
hypersensitivity to the drug.
Otipax: Pregnancy and lactation
Possible use of drugs Otipaks® when pregnancy and lactation on the grounds provided intact tympanic membrane.
Otipax: Special instructions
Before applying the product to ensure the integrity of the eardrum. In the case of drugs in a perforated eardrum may develop complications due to contact of the active substance with components of the middle ear system.
It will be appreciated, that the product contains an active substance, that can give a positive test in a doping control.
Otipax: overdose
The drug overdose Otipaks® not provided.
Otipax: drug interaction
Currently, the interaction of the drug Otipaks® with other drugs missing.
Otipax: terms of dispensing from pharmacies
The drug is resolved to application as an agent Valium holidays.
Otipax: terms and conditions of storage
List B. The drug should be stored out of reach of children at or above 30 ° C. Shelf life – 5 years. Do not use after expiration date, on the package. After opening the bottle the drug should be used within 6 months.