Ketosteril: instructions for using the medicine, structure, Contraindications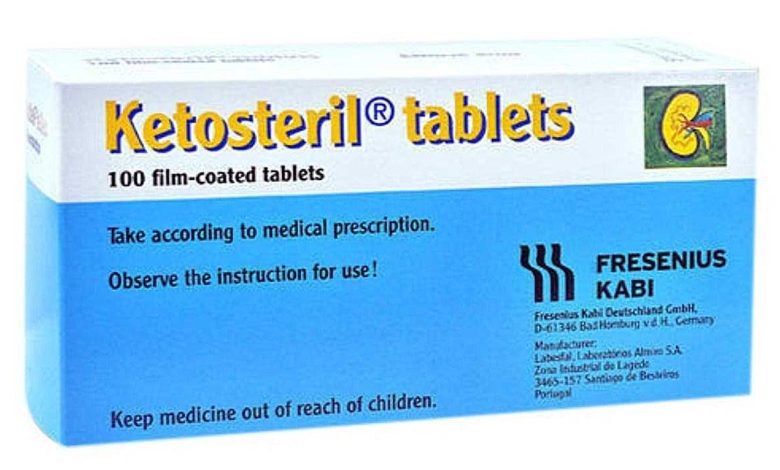 Active material: Combined preparation
When ATH: V06DD
CCF: The preparation of ketone amino acid analogs, used in renal failure
ICD-10 codes (testimony): E46, N18
When CSF: 16.10.04
Manufacturer: FRESENIUS KABI GERMANY GmbH (Germany)
Ketosteril: dosage form, composition and packaging
Pills, Film-coated yellow color, oblong, lenticular.
| | |
| --- | --- |
| | 1 tab. |
| изолейцина a-кетоаналог (DL-methyl-2-oxo-calcium valerinat) | 67 mg |
| лейцина a-кетоаналог (methyl-4-oxo-2 Calcium valerinat) | 101 mg |
| фенилаланина a-кетоаналог (oxo-2-phenyl-3-calcium propionate) | 68 mg |
| валина a-кетоаналог (methyl-2-oxo-butyrate, calcium) | 86 mg |
| метионина a-гидроксианалог (DL-2-hydroxy-methylbutyrate calcium) | 59 mg |
| L-лизина моноацетат | 105 mg |
| L-threonine | 53 mg |
| L-tryptophan | 23 mg |
| L-гистидин | 38 mg |
| L-tyrosine | 30 mg |
| total nitrogen content | 36 mg |
| the total content of calcium | 1.25 mmol (50 mg) |
Excipients: corn starch, povidone, talc, colloidal silicon dioxide, magnesium stearate, macrogol 6000, povidone rastvorimыy.
The composition of the shell: talc, macrogol 6000, quinoline yellow (E104), methyl methacrylate, dimethylaminoethyl methacrylate and butyl methacrylate (эudragit E12.5), triacetine, Titanium dioxide.
20 PC. – blisters (5) – packages from Al / PVC sealed (1) – packs cardboard.
Ketosteril: pharmachologic effect
Combined preparation. It provides complete supply of essential amino acids while minimizing the introduction of nitrogen. Keto analogs of amino acids in the body enzymatically transaminiruyutsya in corresponding L-amino acid, splitting with urea. The drug promotes recycling of nitrogen metabolites, anabolism of protein, while reducing the concentration of serum urea. Improves nitrogen metabolism. Reduces the concentration of potassium ions in the blood, magnesium phosphate.
The systematic use of the drug noted improvement in patients with chronic renal failure. In some cases it is possible to delay the initiation of dialysis.
Ketosteril: pharmacokinetics
Data on the pharmacokinetics Ketosteril® not provided.
Ketosteril: testimony
protein-energy malnutrition;
prevention and treatment of disorders, It causes a change in protein metabolism in chronic renal failure and limitation of protein in the diet (in adults and children 3 and older).
Advantageously, for patients with GFR < 25 ml / min, that does not exclude the use in GFR ≥ 25 ml / min.
Ketosteril: dosing regimen
Adults and children aged 3 and older appoint 1 tab. / 5 kg of body weight / day or 100 mg / kg body weight / day. For adult weighing 70 kg dose is usually 4-8 tab. 3 times / day.
The drug is prescribed inside, usually, 3 times / day with meals. The tablets should be swallowed, without chewing.
Ketosteril® used throughout the period, When the glomerular filtration rate is less than 25 ml / min.
In preddializny period recommended protein content in the diet is not more 40 g / day depending on the degree of chronic renal failure.
Patients, dialysis, protein intake should meet the adopted recommendations.
Recommended content of protein in the diet of children 3-10 years – 1.4-0.8 g / kg / day, for children over 10 years – 1-0.6 g / kg / day.
Ketosteril: side effects
Metabolism: in some cases – hypercalcemia.
Ketosteril: Contraindications
hypercalcemia;
amino acid metabolism disorder;
hypersensitivity to the drug.
When hereditary phenylketonuria should take into account, which preparation comprises phenylalanine.
Ketosteril: Pregnancy and lactation
Clinical experience with Ketosterila® during pregnancy and lactation is not sufficient.
Ketosteril: Special instructions
If hypercalcemia is recommended to reduce the dose received vitamin D. If hypercalcemia persists, the dose should be reduced Ketosterila®, as well as other sources of calcium.
It is necessary to regularly monitor the content of calcium and phosphate to control reduction in serum.
Ketosteril® It should be taken with food to enhance its absorption and conversion to the corresponding amino acids. Required to provide sufficient caloric intake.
Ketosteril: overdose
Data on drug overdose Ketosteril® not provided.
Ketosteril: drug interaction
When concomitant administration of medicines, containing calcium, possible to increase the calcium level in the serum.
With decreasing uraemic symptoms influenced Ketosterila® dose of both aluminum hydroxide used should be reduced accordingly. Care must be taken to decrease the level of phosphate serum.
In order not to disturb the intestinal absorption, should not be taken simultaneously with Ketosterilom® preparations, which form a sparingly soluble calcium compound (eg, tetracikliny, khinolony, preparations, containing iron, fluoro and estramustine). Between admission Ketosterila® and similar drugs should be an interval of at least 2 no.
Ketosteril: terms of dispensing from pharmacies
The drug is released under the prescription.
Ketosteril: terms and conditions of storage
The drug should be stored out of reach of children, dry, dark place at a temperature no higher than 25 ° C. Shelf life – 3 year.