Enterol: instructions for using the medicine, structure, Contraindications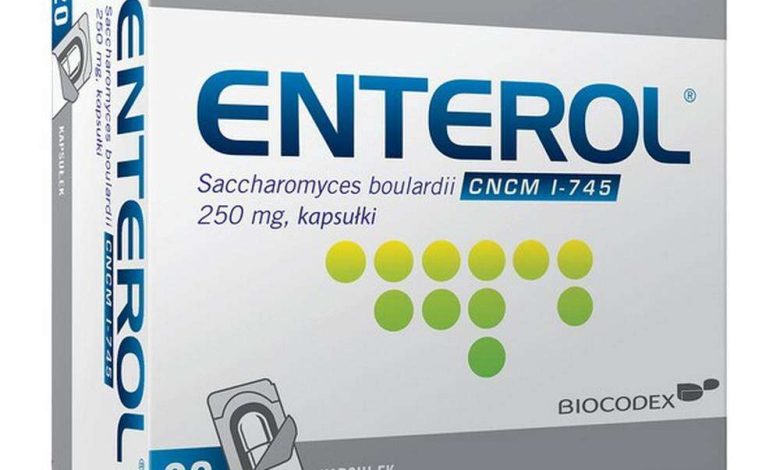 The active substance of the drug enterol: Saccharomyces boulardii lyophilate
When ATH: A07FA02
CCF: Antidiarrheal medication, regulates the balance of intestinal microflora
ICD-10 codes (testimony): A09, K59.1
When CSF: 11.11.01
Manufacturer: BIOCODEX (France)
Enterol: dosage form, composition and packaging
◊ Capsules gelatin, №0, white, smooth, bright, opaque; contents of capsules – light brown powder with a characteristic smell of yeast.
| | |
| --- | --- |
| | 1 caps. |
| лиофилизированные Saccharomyces boulardii | 250 mg |
Excipients: lactose monohydrate, magnesium stearate, gelatin, Titanium dioxide.
10 PC. – glass bottles (1) – cardboard boxes.
30 PC. – glass bottles (1) – cardboard boxes.
Enterol: pharmachologic effect
Antidiarrheal medication. Action Enterol® due to the antagonistic effect against pathogenic and opportunistic microorganisms: Clostridium difficile, Klebsiella pneumoniae, Staphylococcus aureus, Pseudomonas aeruginosa, Candida kruesei, Candida albicans, Candida pseudotropicalis, Salmonella typhimurium, Escherichia coli, Shigella dysenteriae, Yersinia enterocolitica, and Enthamoeba hystolitica, Lamblia intestinalis.
It has toxic effect, especially against bacterial cytochrome- and enterotoxin. Improves the enzymatic function of the intestine. Saccharomyces boulardii have natural resistance to antibiotics.
Enterol: pharmacokinetics
After taking the drug inside Saccharomyces boulardii pass through the digestive tract unchanged form without colonization. The drug is completely eliminated from the body within 2-5 days after discontinuation of.
Enterol: testimony
treatment and prevention of diarrhea of any etiology.
Enterol: dosing regimen
Assign adults and children over 3 years by 1-2 capsules 2 times / day for 7-10 days.
Children aged 1 Year to 3 years the drug is prescribed for 1 capsule 2 times / day for 5 days.
The capsules should be taken 1 hour before meals and drink small amounts of liquid. For young children, and in case of difficulty swallowing the capsule may be opened and its contents to the cold or lukewarm water.
Do not recommend to drink and raise a preparation of hot water and alcoholic drinks.
The drug for the treatment of acute diarrhea must be accompanied by rehydration.
Enterol: side effects
Rarely: manifestation of individual sensitivity to the drug.
Enterol: Contraindications
the presence of a central venous catheter, tk. described rare cases of fungemia in patients with central venous catheter in the hospital environment;
hypersensitivity to the drug.
Enterol: Pregnancy and lactation
Use of the drug Enterol® during pregnancy and lactation is justified only in the case, the expected benefit to the mother outweighs the potential risk to the fetus or child.
Enterol: Special instructions
The patient should be informed, In the absence of improvement after 2 daily use of the drug Enterol®, as well as fervescence, detection of mucus or blood in the stool should see a doctor.
The sensation of thirst and dry mouth indicate a lack of rehydration of the patient.
Enterol: overdose
Currently, the cases of drug overdose Enterol® not disclosed.
Enterol: drug interaction
In an application Enterol® and antifungal drugs for oral administration reduced clinical efficacy Enterol® (this combination is not recommended).
Enterol: terms of dispensing from pharmacies
The drug is resolved to application as an agent Valium holidays.
Enterol: terms and conditions of storage
The drug should be stored out of reach of children at temperature from 15 ° to 25 ° C. Shelf life – 3 year.
Sources:
European Society for Pediatric Gastroenterology, Hepatology, and Nutrition/European Society for Pediatric Infectious Diseases Evidence-Based Guidelines for the Management of Acute Gastroenteritis in Children in Europe: Update 2014 (пдф)

What to Eat (or Not) When Your Stomach HurtsReviewed by Brunilda Nazario, MDon October 14, 2020 https://www.webmd.com/digestive-disorders/ss/slideshow-food-stomach-upset?ecd=soc_tw_180709_cons_ss_upsetstomachfood&linkId=100000002918537
https://www.ncbi.nlm.nih.gov/pmc/articles/PMC4542552/ Saccharomyces boulardii CNCM I-745 supports regeneration of the intestinal microbiota after diarrheic dysbiosis – a review

SCIENTIFIC DOSSIER Saccharomyces boulardii CNCM I-745