Essential rose oil: properties and home use. How to make rose essential oil?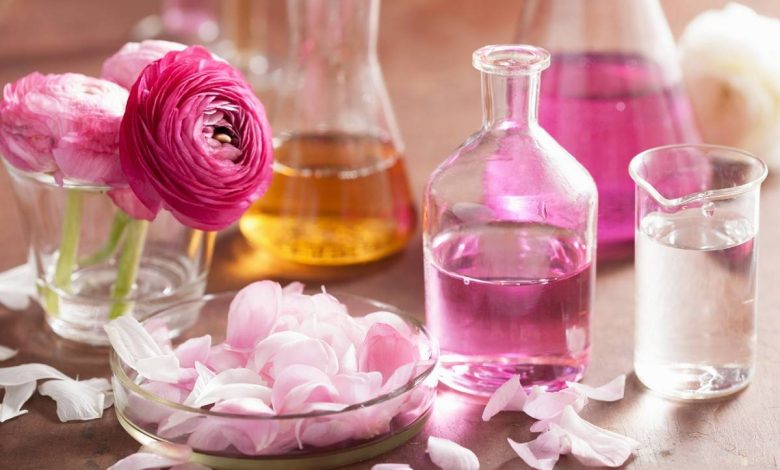 It was once considered very fashionable to go on vacation to Bulgaria. Indeed, the sea, the sun and other delights of life, plus - a magical gift - a tour of the enterprises, producing a branded product of the country - natural rose essential oil, the properties and use of which were reduced mainly to cosmetic and perfumery purposes, but since the 70s. the last century, the "rediscovered" science of aromatherapy began to gain new rounds of development.
Rose, queen of flowers and delicate scents
But not everyone knows, that the aroma of a rose in aromatherapy is considered the smell of love and peace. If the rose is the queen of flowers, then the aroma of pink ethereal is the king of smells. It gives rise to creative energy and instills patience and calm joy in the heart..
This is the most feminine of scents., His patroness is Venus (This is also why rose essential oil is widely used in gynecology and cosmetology.). It regulates the lunar cycles, relieves menopausal symptoms, treats migraines and cleanses the liver, getting rid of outbursts of anger.
The scent acts as a gentle antidepressant, as you stimulate, as calming. Security is the feeling, which he gives, and that's what makes us strong, confident and stress-resistant. Aromatherapy with rose etherol treats depression, relieves depression and even relieves nervous diseases.
And if you inhale the scent of a rose together with your loved one, get ready for the evening, impregnated with special tenderness: among other things, rose essential oil is used as an aphrodisiac.
How is rose essential oil obtained?
If you have the opportunity to visit the enterprise, producing rose oil, you should definitely look, how is everything going on. In this age of automation and borrowed energies, manual human labor is especially valuable.. And it amazes with the scope of its use in the production of pink ethereal. At the enterprise you will be shown vast pink fields, will tell you in detail about the process of obtaining a fragrant extract.
How is rose essential oil obtained?? At dawn, flowers are picked for the first dew. Rose petals fill huge containers; raw materials are gently pressed in them, packed and shipped. From a ton of rose petals, only about three hundred grams of the highest quality rose essential oil is obtained.. A quality product is literally valued by its weight in gold..
At the second stage, the oil fractions of the rose are distilled off with water.. This oil is getting weaker, not so rich and concentrated. It produces expensive varieties of perfumes and cosmetics..
The third fraction - the third rose water from rose essential oil goes on sale at a fairly high price.
For mere mortals, the fourth water distillation of the rose petal extract is intended.. It is sold in shops and pharmacies, enters the production of affordable cosmetics, such as: inexpensive creams, lipstick, shampoos, etc..
What are the benefits of rose essential oil??
But what is so special about it?? In addition to the properties of its aroma, it also has medicinal properties.: antiseptic and astringent, this effect is due to its use in cosmetology. Rose oil is used to treat ulcers and inflammation., in the composition of masks and creams fights fatigue and lethargy of the skin, helps get rid of wrinkles and pimples, for stretch marks and herpes, from skin manifestations of allergies. The benefits of rose oil are comparable only to the price of its first fraction..
But, of course, The high price of this product is primarily due to the fact, that manual labor is used to obtain it. And this is not only a characteristic of the naturalness of the product, but also a special energy. Each drop of ethereal is hundreds of hands, picking tender petals at dawn, it's thousands of human emotions, dreams and aspirations, - yes, the queen of flowers manages to recognize all human aspirations, before giving us your scent, concentrated in a few drops of thick yellowish oil.
How to choose rose essential oil?
It depends on your goals. High quality rose essential oil can be ordered online or bought at a pharmacy. For aromatherapy, bathtubs suitable product of Indian production (by the way, many argue, that it is practically not inferior to the Bulgarian, and even surpasses it). Moroccan ethers are also praised. For cosmetic and medical purposes use the product as a third, and the fourth distillation.
You can try to make your own rose essential oil at home. For this, white varieties are suitable., Damascus, Crimean and tea roses. The properties of these oils are close. Although the classical technique for obtaining rose essential oil refers to the damask or centifolia rose, but white and tea also make an excellent product, which is quite suitable for use in cosmetic and aromatherapy purposes.
In cosmetic properties is not inferior to rose oil and rosehip oil, its benefits and uses are described here.
How to make rose essential oil?
Making your own rose essential oil is not that difficult.. There are several ways. We will consider the simplest.
We collect the petals - as you already understood, at dawn. Anyway, before the heat of the day hits the field. Very important, so that your head during the collection and preparation has only positive thoughts: rose oil will accumulate your energy and will give it to you during the entire time of use.
We put the petals in a large container - a glass or enamel pan or even a bucket will do.. Fill with cold water and grind directly under a layer of water: an enamel crush is suitable for these purposes - and we insist a couple of hours.
Important! Remember - no exposed metal. Dishes must be either glass, or enamelled. Cooling and moisturizing, the very feminine energy of a rose does not tolerate such a masculine element as metal.
After a while, we will see a thin film of oil on the surface of the water.. We collect it and put it in a glass dish. To petals, floated to the surface, not interfering with the process, you can use a thin nylon mesh. Stretch it under the surface of the water, so that she blocks the path of the petals, without letting them escape. Oil will pass through the capron, and you can freely collect it.
How to store rose essential oil collected in this way? In a refrigerator, in a glass bottle. Basically, rose oil is not particularly exposed to sunlight, However, if you choose a dark glass bottle for it, there won't be much harm, and some especially volatile components will last longer.
The shelf life of rose oil is determined by its smell.. In the refrigerator, homemade butter is stored for at least a month., and if you did everything right when making it, even up to a year. If you feel, that the smell of oil has changed for the worse, rancid, unpleasant or even putrid notes appeared in it, color changed, there is a residue - do not use it.
How to use rose essential oil? rose oil (except for the precious oil of the first distillation) used in the same amount, like other essential oils. Proportions and recipes are standard here:
for aromatherapy 5-10 drops in aroma lamp;
for baths - 5-10 drops in the bath;
for creams, rose essential oil mask, including creams around the eyes - 2 drops per serving;
a very simple recipe for obtaining rose water from essential oil (it can be used as a lotion for tired skin or skin, prone to imperfections, as well as an allergy remedy): 5 drops diluted in a spoonful of olive oil or wheat germ (it will serve as the basis ), Beat the mixture with a mixer in a glass of water until a homogeneous consistency is obtained., pour into a glass bottle, put in the refrigerator.
You can also make perfume from rose essential oil.. How? Very simple. For this you need medical alcohol (as grounds). Rose oil is added to it (2 drops per milliliter) and any other oils, with which this fragrance is combined. The list is great: calm sandalwood, delicate jasmine, neroli fragrance princess, soothing lavender. tart bergamot, mystical sage, patchouli, geranium, pink tree.